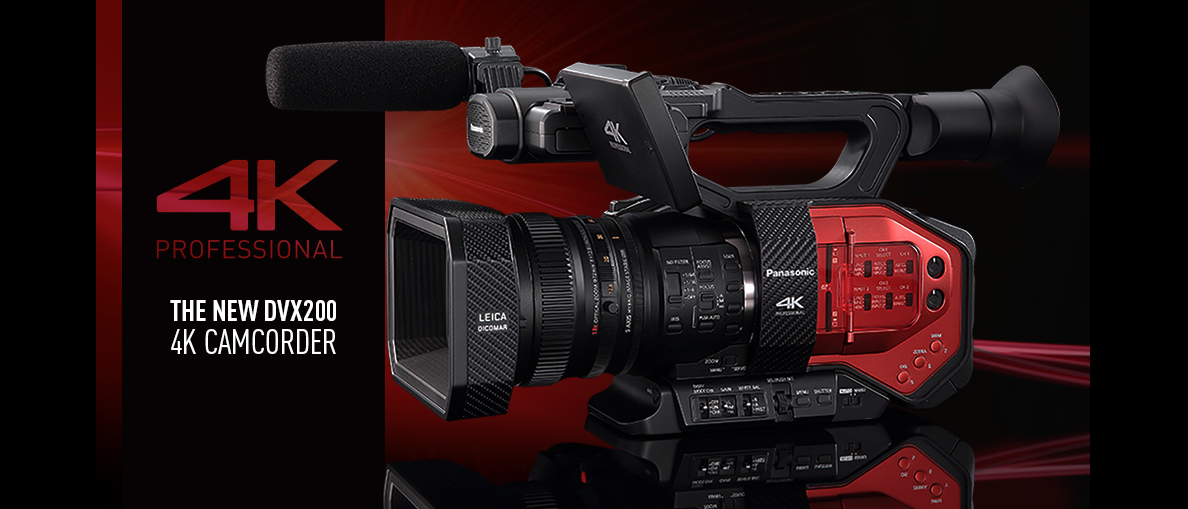 Panasonic is excited to announce the AG-DVX200PJ, the first in a new generation of multi-format 4K/UHD, HD and SD camcorders. Designed from the ground up as a large format camera system, the AG-DVX200 provides that all-important aesthetic of shallow depth of field / selective focus, yet the integrated 13X zoom allows for easy control over image framing, as well as the ability to track your subject even in fast action.
Following in the footsteps of the breakthrough AG-DVX100, the new AG-DVX200 debuts as the world's first*1 4/3-type large format, 4K/60p*2 camcorder to feature an integrated zoom lens.
The DVX200 captures stunning imagery by virtue of LEICA DICOMAR 4K 13x zoom lens combined with an advanced large format 4K imager and the blending of aesthetics like shallow focus, attractive Bokeh, and an amazing 12 stop dynamic range made possible by the VariCam style V-Log L processing.
Newly designed lens-integrated body provides excellent mobility and extra flexibility is supported by the compartment with hatch-type cover which protects the battery and terminals from dust and impacts.
The crimson red coloring and stylish carbon-black textured body represents philosophy and advanced features of the new AG-DVX200 which produce emotional and highly detailed 4K images.
*1: For a lens-integrated 4K/60p camcorder with a 4/3-type sensor. (As of March 2015, according to a Panasonic survey.)
*2: UHD (3840×2160) resolution, when 60p mode is selected.

MAIN FEATURES

EXPRESSIVE 4K PRODUTION IN YOUR HAND

Newly developed F2.8 LEICA DICOMAR 4K lens.
13x zoom, 4K (4096 x 2160) 24p: 29.5 mm - 384.9 mm
FHD: 28mm - 365.3 mm(35 mm film equivalent).
Beautiful Bokeh effects from a 4/3-type, large-format sensor.
12 stops of imager latitude faithfully recorded by new V-Log L gamma curve.
Variable Frame Rate with a maximum of 120 fps (in FHD resolution).
IR shooting capability. *2

ENHANCED MOBILITY WITH PROFESSIONAL FUNCTIONS

5 axis Hybrid Image Stabilizer.
Intelligent Auto Focus, Custom Auto Focus.
Variety of Manual Focus Assist function.
ND filters (1/4, 1/16, 1/64).
3 rings for independent Zoom, Focus, Iris control, mechanical zoom.
4.3 inch touch screen type LCD (Approx. 2.76 Mil dots).
0.39 inch high quality OLED viewfinder (Approx. 1.77 Mil dots).
Battery cover for great handheld shooting experience.
Camera Remote control support. *3
SELECTABLE RECORDING FORMAT AND I/O FOR VERSATILE SHOOTING

Supports 4K, FHD and SD recording*4 on to SD memory card*5.
Simultaneous, backup, relay or dual codec recording function using two card slots.
Various input/output.
OUT: 3G-SDI/HDMI/Composite/USB IN: XLR/Camera Remote/USB
*1: When 60p, resolution is UHD(3840 x 2160).
*2: IR illuminator is required separately.
*3: 2.5mm super mini jack x1 for ZOOM, S/S and 3.5mmmini jack x1 for FOCUS, IRIS.
*4: Recording format is 4K(MP4/MOV), FHD(AVCHD/MP4/MOV), SD(AVCHD).
*5: Use SDXC/SDHC Memory Card compatible with UHS Speed Class 3 (U3) when using high bitrate video recording mode of 100 Mbps or greater.
The use of DCF Technologies is under license from Multi-Format, Inc.
Download Specifications Download CAD Dimensions
Download CAD Dim w/ Mic Download USB Support