At Encore Broadcast Solutions we know that an integral part of success is our team members. We take pride in the selection of our employees and nurture their development. Most have been in the AV industry for over 25 years and have the knowledge and expertise to provide our customers with the top notch experience they deserve and depend on.
What sets us apart in this competitive industry begins with our team. We are ethical, passionate and dedicated professionals who take our job to heart. We want to do everything necessary to guide the success of our clients. At Encore we support an environment of respect, creativity and teamwork. The employee satisfaction is evident as many have been with Encore since its inception.
With our array of talent, Encore can provide an all-in-one solution for you. Our experience in industries such as houses of worship, government agencies, corporate, sports, entertainment and healthcare keeps us the top choice for your audio video system designer and integrator.
KEY STAFF
Sales/Engineering/Technical
Susan Masotti – Owner/President since 1992
Doug Taylor – Sales – Tampa Office since 1993
Joe Masotti – Digital Systems Manager since 1995 -
- Certified Electrical Specialty Contractor - license #ES12001254
- Extron Certified Control Professional
- Lencore Acoustics Certified Installer
- NewTek TriCaster Certified Trainer
- Wolfvision Cynap Certified Technical Expert
- Symetrix Composer Certified Professional
Dennis Keefe – Sales – Tampa Office since 1997
Glenn Bradley – Sales – Bridgeport Office since 2001
Martin Otilio Febres, Jr. – Sales – Tampa Office since 2002
David Quinn – Sales – Altamonte Springs Office since 2017
Derrick Davis – Sales – Tampa Office since 2023
Support
Sharon Leverett – Bookkeeper/Accounts Receivable since 2000
Brian Faiell – Accounts Payable/Purchasing – Tampa Office since 2018
WHAT WE DO
AV Engineering and Design
AV Systems Integration/Installation
Training and Technical Support
Custom Programming
Managed Services
Broadcast Studios
Video Conferencing and Telepresence
Distance Learning
Command and Control Rooms
Video Walls
Signal Distribution
Digital Signage
Audio Systems
Lighting Systems
Projection Display
Video over IP
Digital Upgrade
AV Equipment Sales
AV Equipment Rentals
AV Systems Maintenance
Bilingual - Spanish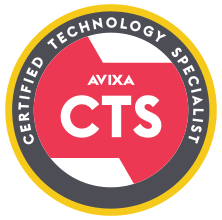 NOTABLE TRAINING/EXPERIENCE:
Fiber Installation Expert
Belden Cable – Fiber Installation and Termination Training
Corning Cable Systems – Specialty Fiber Unicam Termination Training
AutoCAD/ VidCAD Certified
Certified Electrical Specialty Contractor -
License #ES12001254
Tennessee Contractor's License
InfoComm International Member