LIMITED QUANTITY
AVAILABLE NOW!




Introducing low cost, multi camera,
live production

with advanced broadcast features.

ATEM Mini switchers make it easy to create professional multi camera productions for live streaming to YouTube and innovative business presentations using Skype or Zoom! Simply connect ATEM Mini and you can switch live between 4 high quality video camera inputs for dramatically better quality images. Or connect a computer for PowerPoint slides or gaming consoles. The built in DVE allows exciting picture in picture effects, perfect for commentary! There are loads of video effects too! All ATEM Mini models have USB that works like a webcam so you can use any streaming software while the ATEM Mini Pro model adds live streaming and recording to USB disks. ATEM Mini even has secret broadcast features built in so it can do high end work!

ATEM Mini is fast to set up and easy to use. It includes 4 standards converted HDMI inputs, USB webcam out, HDMI out, Fairlight audio mixer with EQ and dynamics, DVE for picture in picture, transition effects, green screen chroma key, 20 stills media pool for titles and free ATEM Software Control.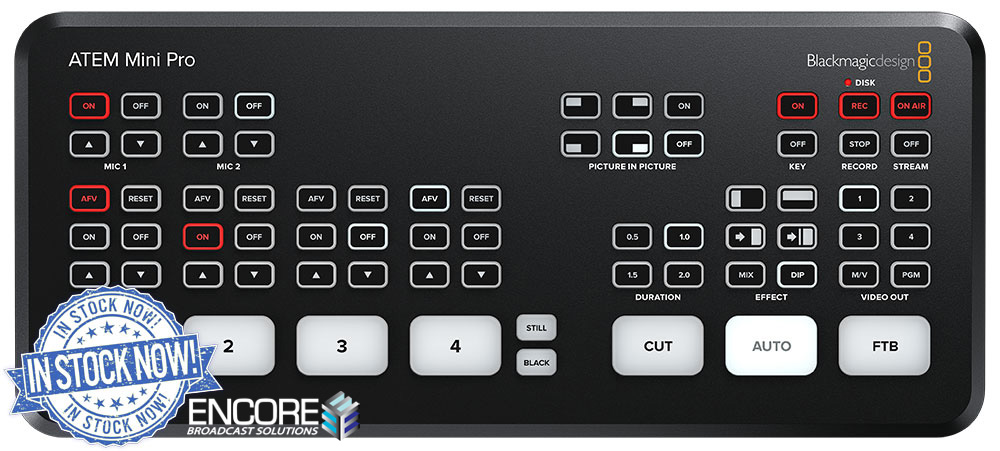 This model includes all the features found in ATEM Mini, plus more! You get recording direct to USB flash disks in H.264 plus direct streaming via the Ethernet to YouTube Live and more. There's also a multiview with 4 cameras, media, preview and program plus status of recording, streaming and audio.
DON'T WAIT!

Contact your area office: